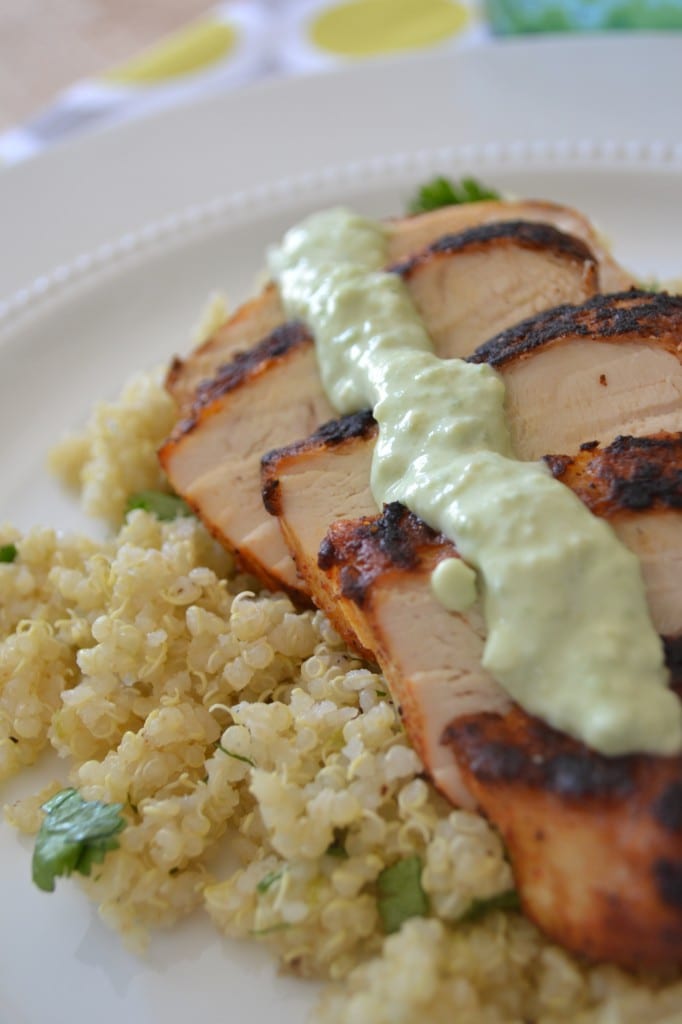 Ingredients (Serves 2-3)
2 Boneless Skinless Chicken Breasts
½ Teaspoon of Paprika
¼ Teaspoon of Salt
¼ Teaspoon of Pepper
¼ Teaspoon of Cayenne Pepper
¼ Teaspoon of Onion Powder
¼ Teaspoon of Cumin
1 Teaspoon of Olive Oil
2 Cups of Low Sodium Chicken Stock
1 Cup of Quinoa
Juice and Zest from One Lime
A Dash of Salt and Pepper
2 Tablespoons of Cilantro, chopped
Combine all the dry seasonings in a small bowl. Mix them together and then season both sides of each chicken breast.
Add the teaspoon of olive oil to a large pan or skillet. Heat the olive oil for a minute over medium/high heat. Add the chicken breasts to the pan. Cook for seven minutes on each side with the lid on.
Add the chicken stock and quinoa to a medium sauce pan. Bring to a simmer over medium/low heat. Reduce the heat to low and simmer for ten to fifteen minutes with the lid on, until all the stock has been absorbed.
After the chicken breasts have cooked all the way through, remove them from the pan and let them rest for seven minutes before slicing them.
Add the warm quinoa to a large bowl. Toss in the lime zest, lime juice, salt and pepper, and chopped cilantro. Mix to combine.
Serve the sliced chicken breast on top of the quinoa. If you find the blackened seasoning too spicy, you can add a quick and easy avocado cream sauce to cool it down.
Just place the flesh from an avocado along with two tablespoons of Greek yogurt in a food processor and puree until smooth.